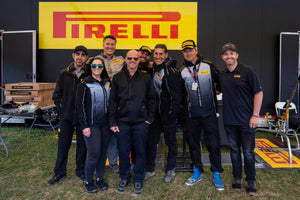 Pirelli and SBR sign 3 year deal
Bakersfield, CA - Stan Benson Racing is pleased to announce that we have signed a 3 year deal with Pirelli Tires LLC to be their premier Off-road Trackside Service Provider for all professional events in the United States. the SBR Pirelli Semi will go to 32 events total for 2023-2025. these events include the 17 rounds of Supercross, 11 rounds of Pro Motocross, Loretta Lynn's Amateur National Championship, as well as the 3 rounds of SuperMotocross World Championship. 
"We are very excited to continue to expand our relationship with Pirelli as they are trusting us to provide the superior service Pirelli is known for at the highest level of professional motocross competition in the United States" said Jon Majors, Owner of Stan Benson Racing. "this is more than just trackside service for us, we will partner with Pirelli in giving Supercross and Motocross fans visibility to the prestigious history of the brand, bringing them up close and personal with the newest Pirelli has to offer, not just for off road, but for your Street and Mountain Bikes, Cars, Trucks, and SUV's, as well as Pirelli's Winning history, and the Pirelli Nation program for amateur riders. all this will be on display at every round with knowledgeable staff answer any questions fans may have." added Majors. 
This increases Pirelli and SBR's relationship as SBR is the premier Amateur Trackside provider for Pirelli attending events like the Road to Mammoth Series, Spring Nationals, Ponca, Loretta Lynn's, and Cal Classic to name a few. see more by visiting our socials, and don't forget to follow @pirellimx
---