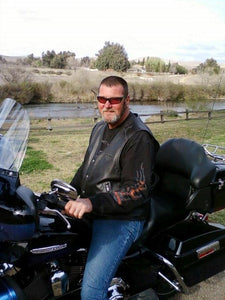 Where We Come From
 In order to understand who we are and what we are about, its important for you to know who he was, and the principals he stood for...
Stan Benson spent over 30 years in the Oilfields providing for his family. this is where he applied and cultivated the work ethic he was known for. Stan was the no nonsense type, demanding the best from everyone around him.  He started out as a rig hand, working his way through the ranks and eventually becoming a successful business owner, The Oilfields became his second home and through the years he acquired a family of people he admired and trusted. 
 Stan met Shari and soon began dating in 1988. they were together for 8 years before he had the privilege of marrying his best friend on 4/20/96. They were married 19 years until Stan's unexpected passing in 2016. Despite his demeanor, Stan was a very loving family man with a big heart. 
Words of wisdom; don't trust anyone who doesn't love BBQ, and Stan was no different. In his younger years he was a Chef for The Hillhouse, and would often make his "world renown" Chili Cheese Omelette on Sunday mornings. Stan was a sucker for a good steak, and you were likely to find him near the grill most days. It was rare if you didn't find him grilling something, with a cold beverage sharing stories and some of his favorite jokes with anyone who would listen. 
there is nothing better than an early morning tee time with the sound of birds chirping, a nice cool breeze, great friends, and an ice chest full of ice cold beverages. Stan was an avid golfer in his down time who loved playing new courses around the US. he also competed in many local tournaments and would often talk about joining the Senior Tour when he retired. 
the Harley Davidson lineage goes back to 1903; there is a sense of pride and a sense of being connected to an American icon, a legend, to that. There are many other V twin cruiser style bikes out there. Nothing compares to Harley's sense of heritage and Stan loved to ride his! whether it was with his friends or a husband/wife ride up through the hills, you couldn't wipe the smile off his face all day!
Stan was a great man, who is dearly missed by many. Stan showed us how incredibly quick life can change, how little time we have, and to never take a second for granted. 
---