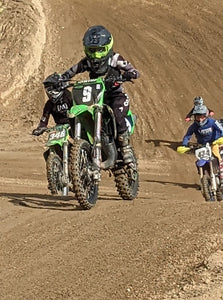 Steven Clendennen
Name: Steven Clendennen
Rider bio 
Steven is an up-and-coming 9-year-old rider who is rapidly transitioning into the racing scene. He embraces the mantra "if you can walk, you can ride" as he passionately embraced riding at the age of 4-years-old. His skill is matched only by his enthusiasm, which he brings in abundance to the track. When Steven is on his 85cc, nothing else matters.
Date of birth: 07/08/11
Hometown: Lancaster, CA
// Facebook:
// Instagram: StevenClendennen9
Classes Raced: 65cc Starter, 85cc Starter, 85cc Open (starter/beginner)
Years riding: 5
Years racing: 1
Sponsors: Stan Benson Racing
Best Family memory from racing?
I like racing because it brings my family together and I get to do one of my favorite sports.  Camping at the track the night before a race is always the best because I get to hang out with my friends and family.
What is it about dirt bikes that you love?
Riding and having fun.  Pushing myself against the competition.
What does it mean to not give up?
Every lap of every race is a learning experience.  No matter how good or bad it might be, it will always make you better for the next time.

Favorite track: 
Glen Helen Raceway
---