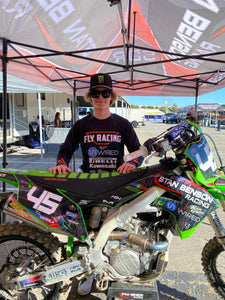 Slade Varola Signs Deal joining SBR for the 2023 Season
Stan Benson Racing is thrilled to announce that the team has signed Slade Varola to the Unwired Broadband Stan Benson Racing Kawasaki Team for the 2023 Season. Slade comes to us from Simi Valley, CA and has had a remarkable amateur career coming off a top 5, and top 10 respectably at Loretta Lynn's this year in the B class.
"we are very excited to have such a motivated, hardworking young man apart of the team this year. we are looking forward to seeing what we can do together as Slade takes the next step in his career moving to the A class." said team owner Jon Majors. "its a big step moving to this class, as his pro debut comes closer, and with his talent and toughness, and our program, im confident we will see Slade competing for win's in the Amateur Premier class" added Majors. 
Slade's success is starting early in the A class as he was able to finish 3rd, and 5th at his debut at the AZ Open National in December. he followed that up with a 8th at the opening round of Supercross Futures at Anaheim 2 after only 2 weeks of riding supercross on the bike. Slade's next race will be Supercross Futures in Arlington, TX followed by Freestone and Spring a Ding. 
follows Slade's Journey on his socials @sladevarola
---